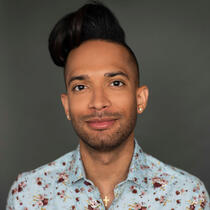 Darnell Thomas
---
Canadian-born, with Trinidadian roots
---
Creative
Artist | Songwriter | Arranger | Producer

Educator (Professor/
Private Teacher)
Sheridan College | York University
Vocal | Piano | Theory | Musical Theatre | Performance

Philanthropist
Keys To Dreams | Arts Access Fund

Entrepreneur
Co-Founder & Co-Artistic Director
See Below
---
BIPOC Community Support
A Collection of Resources of how to Educate yourself, Donate to and Support the fight for ending Racism and creating an inclusive and equitable society for the Bipoc Community. #blacklivesmatter #AllBlacklivesMatter #Indigenouslivesmatter
---
#WeStandOnGuardForThee
2020 has brought with it a number of challenges which greatly affected our community at large. From Covid to the Civil Uprising and call for justice and equity, I was inspired and impassioned to arrange and record a 7-part vocal arrangement of "O Canada". The project, entitled
#WeStandOnGuardForThee
produced in partnership with Cue The Lights Productions, features myself on vocal and piano, with 32 stunning voices including students from TIFTPA, Sheridan College, York University, Vocalics Music Group, D & The Groove Factory, Independent Artists and Special Guests.
Click on the button below to check out the video! Share! Share! Share!
Coming soon to all music streaming platforms! 100% of the proceeds from streaming and sales will be donated to the Nia Centre For The Arts - A Toronto-based not-for-profit organization that supports, showcases and promotes an appreciation of arts from across the African Diaspora. To learn more about their initiatives and how to donate, see below.
For now, make a donation to Nia Centre For The Arts below.
---
My ARTISTIC ENDEAVOURS
---
Websites Coming Soon
---